Are You Looking For Excavation Experts In The Interlake Region?
Al Heald & Sons Ltd. is in the excavating business. As such, the majority of our business is related to sewer and water, pressure systems and septic systems.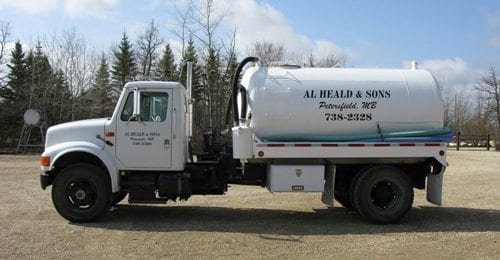 Our team provides solutions for excavation, drainage, landscaping, septic/holding tank waste removal and more. See more of our work below.
Since 1980, Al Heald & Sons Ltd. has provided out satisfied customers with trusted, high quality septic and water systems solutions. As a family run business, we offer a variety of services including:
"When my wife and I decided to embark on a new house build in St Andrews, we relied heavily on the opinions and experiences of our friends in the area to identify which contractors we would use on our project. We asked them who they had used and who they would recommend. Your name came up multiple times in connection with either Septic Field systems and/or Pressure systems. Their feedback was that your prices, while not the lowest, were competitive and that the finished product and support you provided were top notch. My friends didn't steer me wrong. My overall experience with your team was very positive. The systems and services you provided were completed in a timely manner and on a budget. The quality of the work was outstanding and your knowledge, experience and focus on getting the details right were greatly appreciated. Your team's positive and friendly attitude was a real plus in working with you. In closing, if anyone asks me who I would recommend in the area for this type of work, based on my experience I would recommend Al Heald and Sons without reservations."
– Tony Y., St. Andrews, MB
"You met all our expectations of a professional tradesperson. You started and finished on time. You were true to your quote, and your team cleaned up my yard and landscaped it all as well as I could have wished for. Having to replace our field and getting permission to do so was a stressful event for my wife and me. I am sincerely thankful that we chose Al Heald & Sons Ltd. to take on this project and have no reservations recommending you to anyone who requires your services."
– Dwight G., CDN Red Agencies Sports Inc.